Nintendo Switch : quels sont les jeux prévus sur la console ?
La Nintendo Switch pourra s'appuyer sur un catalogue de jeux pour se vendre. Oui, mais quelles productions exactement ?
80 : c'est le nombre de jeux en développement sur la Nintendo Switch, comme l'a annoncé la firme nippone durant sa conférence de présentation organisée le 13 janvier dernier. Depuis, les éditeurs s'en donnent à coeur joie pour dévoiler leurs différents projets et il est donc temps de faire le point afin d'y voir un peu plus clair dans le line-up de la console hybride. Les premières semaines ne seront pas folichonnes mais il y a de quoi se rassurer sur la quantité d'ici décembre et au-delà de l'horizon 2017.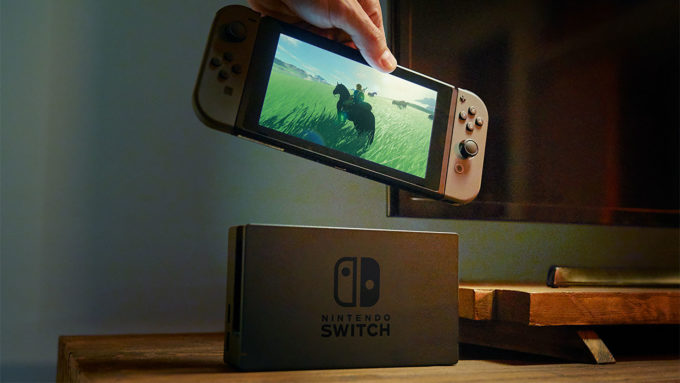 Des dizaines et des dizaines de jeux
Les jeux au line-up de lancement (ou presque) :
1-2 Switch (le 3 mars)
Constructor HD (le 3 mars)
Has been Heroes (mars)
Human Resource Machine (le 3 mars)
I am Setsuna (le 3 mars)
Just Dance 2017 (mars)
Little Inferno (le 3 mars)
Mario Kart 8 Deluxe (le 28 avril)
Skylanders Imaginators (le 3 mars)
Snipperclips - Cut it out, together! (mars)
Super Bomberman R (le 3 mars)
The Binding of Isaac: Afterbirth † (le 3 mars)
The Legend of Zelda: Breath of the Wild (le 3 mars)
World of Goo (le 3 mars)
https://www.youtube.com/watch?v=QP_IBYaH4ng
Les jeux prévus pour 2017 (mais sans date) :
ARMS (printemps)
Cube Life: Island Survival HD (printemps)
LEGO City Undercover (printemps)
NBA 2K18 (septembre)
RiME (mai)
Splatoon 2 (été)
Super Mario Odyssey (fin d'année)
Sonic Mania (printemps)
The Elder Scrolls V: Skyrim (automne)
Yooka-Laylee (printemps)
https://www.youtube.com/watch?v=8jEamPqJQx0
Les jeux confirmés :
Arcade Archives
Disgaea 5 Complete
Dragon Ball Xenoverse 2
Dragon Quest X
Dragon Quest XI
Dragon Quest I & II (le 3 mars au Japon)
Dungeon of Zaar
Farming Simulator
Fast RMX
FIFA
Fire Emblem Warriors
LEGO Worlds
Minecraft
Minecraft: Story Mode - The Complete Adventure
Monster Boy and the Cursed Kingdom
New Frontier Days: Founding Pioneers
No More Heroes
Project Octopath Traveler
Project Sonic 2017
Puyo Puyo Tetris
Rayman Legends: Definitive Edition
Redout
Riverside
Shin Megami Tensei: Brand New Title
Shovel Knight: Treasure Trove
Steep
Syberia 3
Tank It!
Seasons of Heaven
Stardew Valley
The Sacred Hero
Ultra Street Fighter II: The Final Challengers
Untitled Blazblue
Untitled Fire Emblem
Untitled Nobunaga's Ambition
Untitled Taiko Drum Master
Untitled Tales of
Wonder Boy: The Dragon's Trap
Xenoblade Chronicles 2